[et_pb_section bb_built="1″ admin_label="section" _builder_version="3.0.47″][et_pb_row use_custom_gutter="on" gutter_width="1″ custom_padding="0|0px|0|0px|false|false" make_equal="on" background_color_1="#000000″ background_color_2="#ffe600″ module_class="dw_display_before_login" _builder_version="3.10.1″ border_radii="on|25px|25px|25px|25px" border_width_all="6px" border_color_all="#000000″ box_shadow_style="preset2″][et_pb_column type="1_2″][et_pb_text _builder_version="3.10.1″ text_font="Arvo|800||on|||||" text_text_color="#ffffff" text_font_size="42px" custom_margin="50px|||20px"]
Cashback
[/et_pb_text][et_pb_text _builder_version="3.10.1″ text_font="Open Sans|500|||||||" text_text_color="#ffffff" text_line_height="1em" custom_margin="50px||100px|20px"]
*$5 free credit
*10% cashback from your purchase through your unique link
*10% cashback from purchase through your referral link
[/et_pb_text][/et_pb_column][et_pb_column type="1_2″][et_pb_code _builder_version="3.10.1″ custom_margin="0px|||"]Close
Share to Earn 10% Cashback
[/et_pb_text][et_pb_code _builder_version="3.9″][ninja-popup ID=popmake-221736]Sign up to get your link[/et_pb_code][/et_pb_column][/et_pb_row][et_pb_row admin_label="row" _builder_version="3.0.47″ background_size="initial" background_position="top_left" background_repeat="repeat"][et_pb_column type="4_4″][et_pb_text _builder_version="3.9″ background_size="initial" background_position="top_left" background_repeat="repeat"]


Extraordinary and Revolutionary 3 in 1 E-Writer Tablet, Power Bank and Wireless Charger.  Stay powered and organized! Say goodbye to paper and phone power shortages.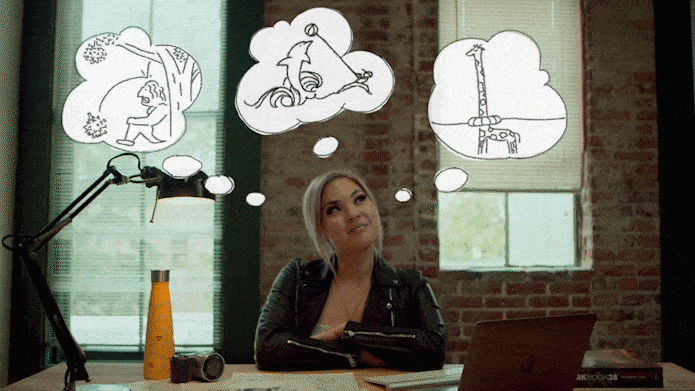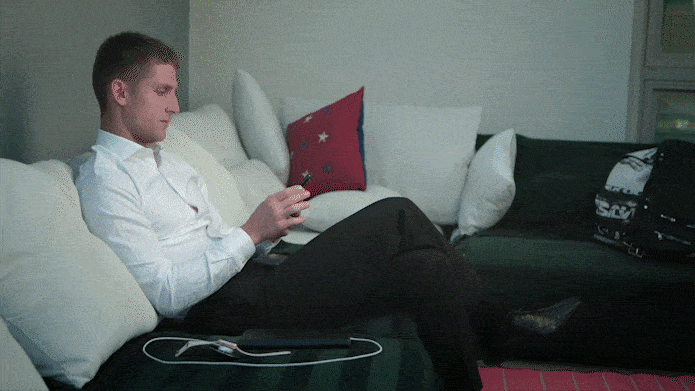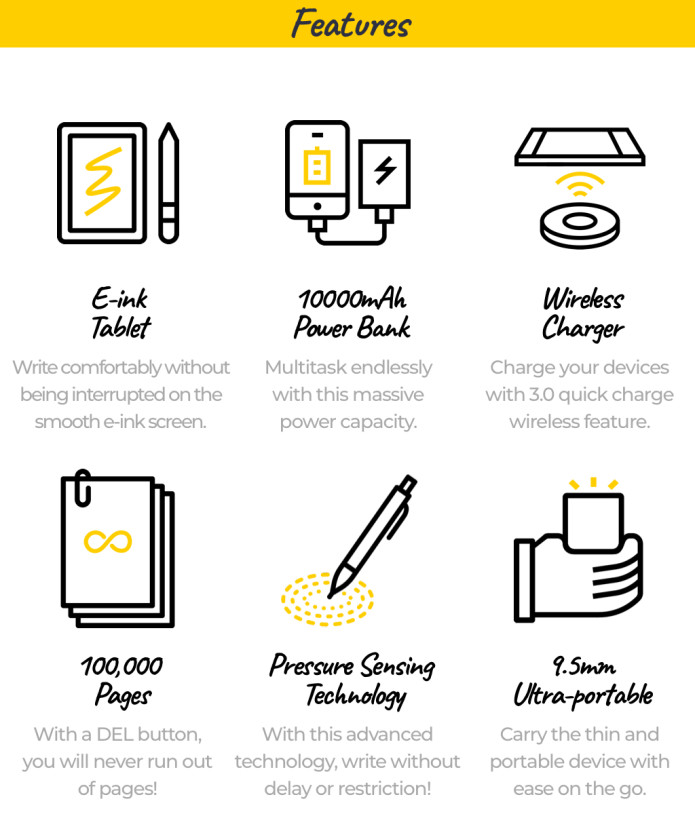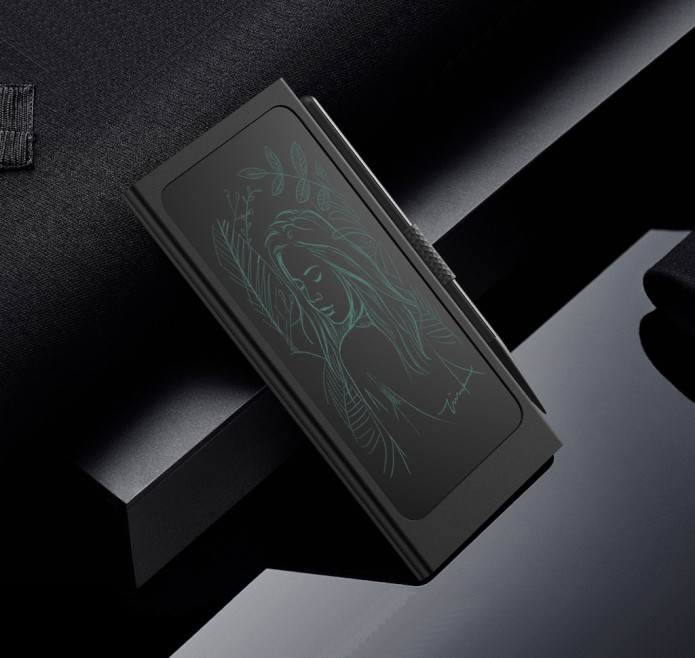 Memomate is professionally developed and designed by writing enthusiasts and paper and pen experts. We managed to make writing on the screen feel the same as writing directly on paper. With the aid of the stylus pen, you can write fluidly on the e-ink screen and highlight texts easily. You can write smoothly without lagging or disruption. Also, the e-ink screen won't make your eyes feel tired.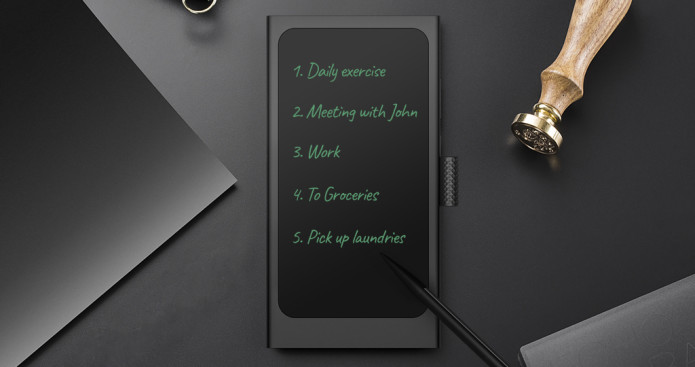 Besides, it is suitable for taking note and making to-do list. Talking on the phone, you can take quick notes of important information with Memomate e-writer.

Memomate gives you the power to bring your writing ideas to life with a smart digital pen that has accurate pressure sensing. It is hassle free, offers the same ease of movement as writing on paper, and requires no charging. It is equally slick like the tablet, thereby giving you the premium digital feel.

Memomate is ideally equipped with a DEL button. The great feature that helps you delete anything or everything so you can endlessly use the tablet without obstruction.
However, without touching on the DEL button, you don't have to worry about your records being deleted as everything will still be intact!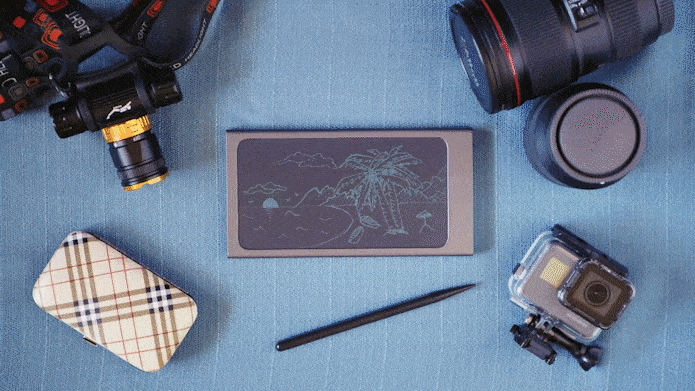 As a trendy e-writer, you do not need to charge or change batteries. There is no other e-writer with such a feature! The device is designed for writing for lengthy periods and taking notes during meetings. Even though many people prefer the e-writer to a keyboard, existing digital notepad products need to be charged or their batteries have to be replaced. The good news is you can continually use Memomate without having to charge at all – a great feature you wouldn't want to miss!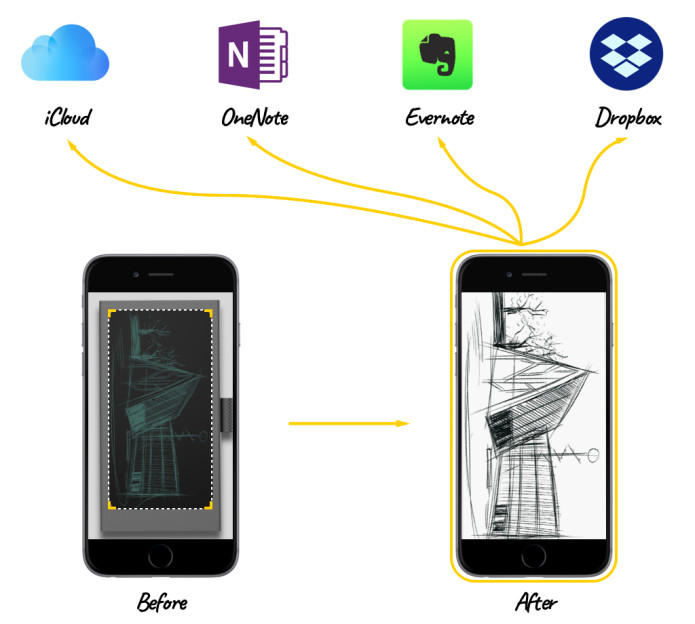 With Memomate Digital E-writer, you can scan your work with your phone or take a picture and upload it to Cloud, Evernote, OneNote, Dropbox, and more. Your meeting notes, masterpieces, and documents will now be manageable and shareable.You are fully secured!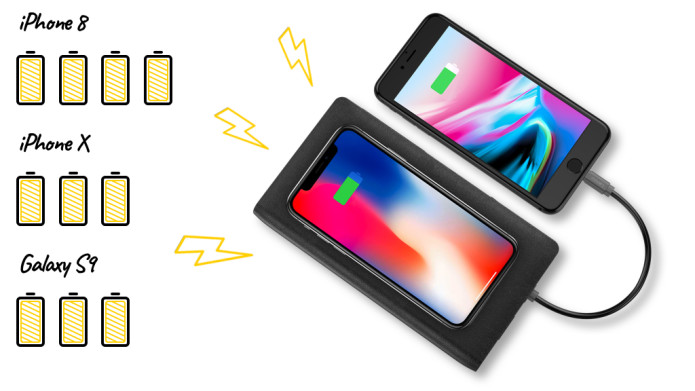 Features two input ports and two output ports. Allow two devices to be charged simultaneously. It is capable of charging an iPhone 8 four times. You couldn't desire a better e-writer with a power source!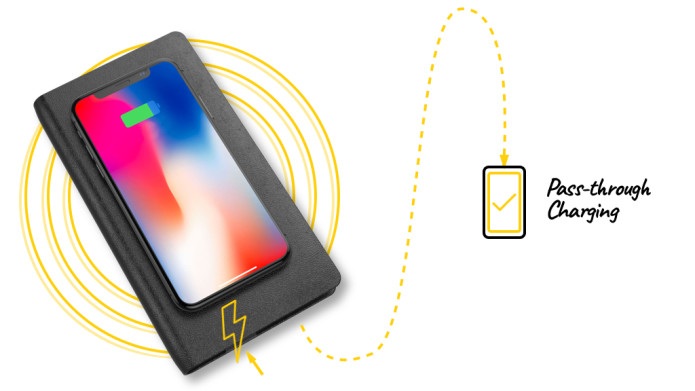 A protection case is included in the package box to prevent scratches and keep the device neat. It has a smooth texture and is easy to clean. Spots a wireless charging technology for Qi phones and devices. It's a perfect wireless charging pad on your desk because it can charge your devices and recharge itself simultaneously.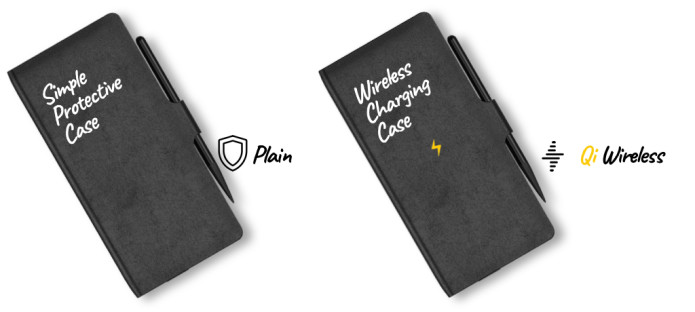 We perfectly understand that not everyone has a Qi phone, so we have two options for you. A case with a wireless charging function and a normal case. We care about your preferences!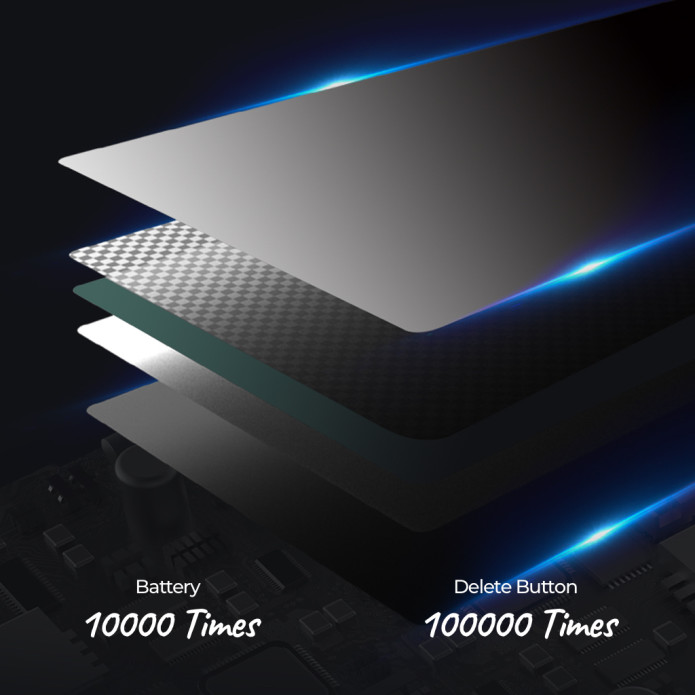 The hardware parts of Memomate E-Writer are constructed with superior quality materials to ensure durability, longevity, and safe use of the device.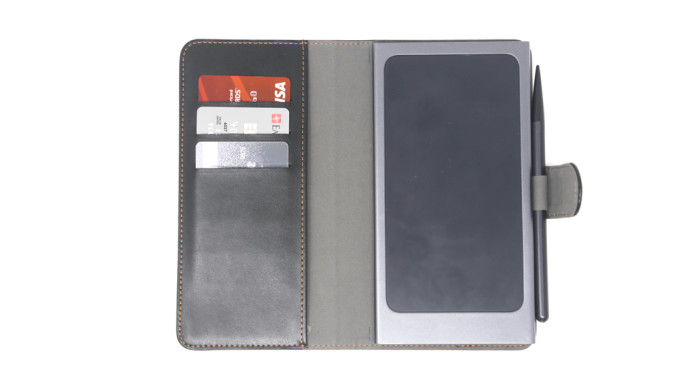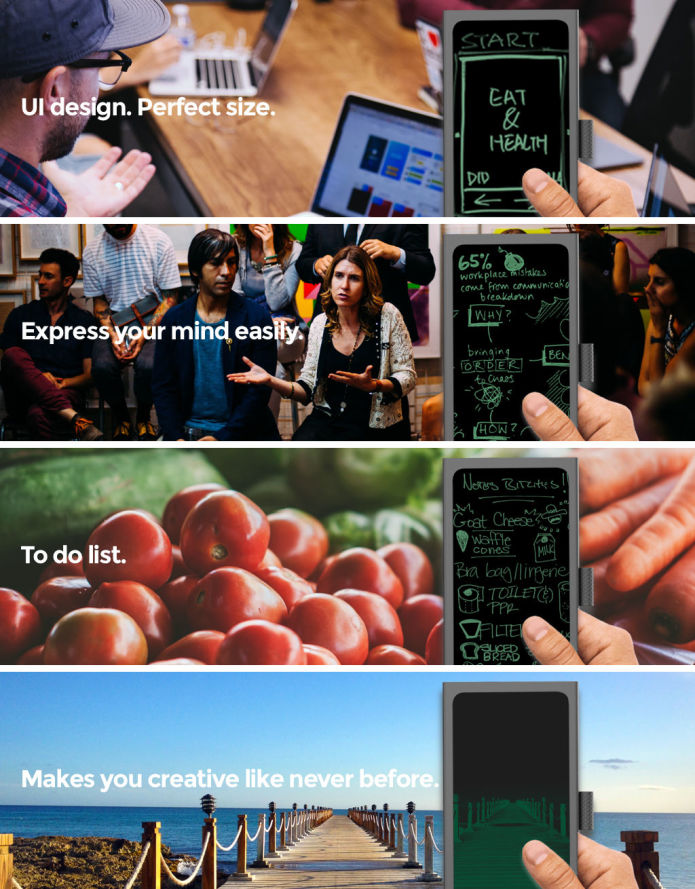 Dear editors and supporters, feel free to share our Memomate story with your audience. Here is the press kit folder:https://goo.gl/tMGBd2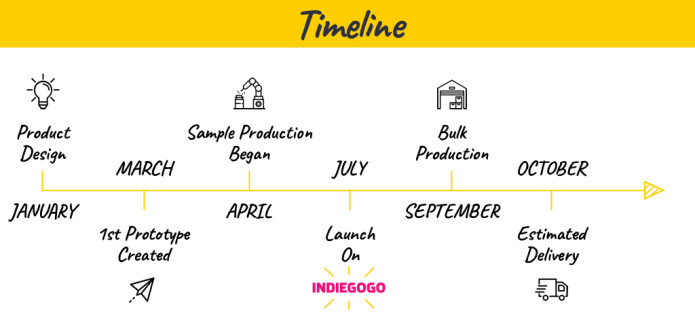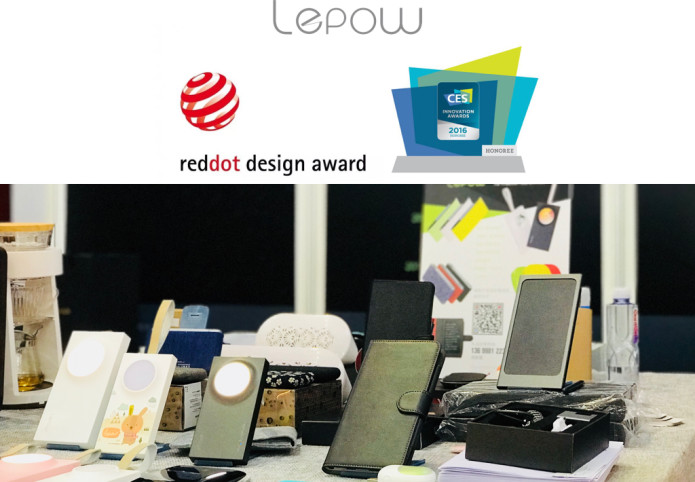 Lepow International LLC. is a leading electronic manufacturer established in 2011 in Hongkong, China, and started its branch in United States in 2013. Its crowdfunding campaign of HiSmart-a smart backpack has achieved great success in 2015. Lepow is dedicated to delivering high-end smart mobile accessories and top-notch user-experience to worldwide customers. Lepow's portable charger has won the Red Dot Design Concept Award and the CES Innovation Awards HONOREE. Comprised of a team of experts, Lepow will continue to provide better products and customer services to you in the future, so don't hesitate to contact us for any inquiry or feedback!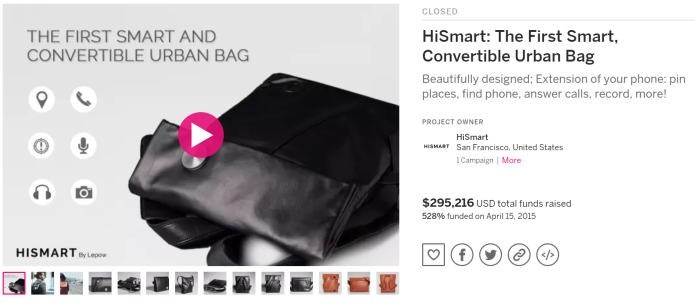 [/et_pb_text][/et_pb_column][/et_pb_row][et_pb_row use_custom_gutter="on" gutter_width="1″ custom_padding="0|0px|0|0px|false|false" make_equal="on" background_color_1="#000000″ background_color_2="#ffe600″ module_class="dw_display_before_login" _builder_version="3.10.1″ border_radii="on|25px|25px|25px|25px" border_width_all="6px" border_color_all="#000000″ box_shadow_style="preset2″][et_pb_column type="1_2″][et_pb_text _builder_version="3.9″ text_font="Arvo|800||on|||||" text_text_color="#ffffff" text_font_size="42px" custom_margin="50px|||20px"]
Cashback
[/et_pb_text][et_pb_text _builder_version="3.10.1″ text_font="Open Sans|500|||||||" text_text_color="#ffffff" text_line_height="1em" custom_margin="50px||0px|20px"]
*$5 free credit
*10% cashback from your purchase through your unique link
*10% cashback from purchase through your referral link
[/et_pb_text][/et_pb_column][et_pb_column type="1_2″][et_pb_code _builder_version="3.9″ custom_margin="0px|||"]Close
Share to Earn 10% Cashback
[/et_pb_text][et_pb_code _builder_version="3.9″][ninja-popup ID=popmake-221736]Sign up to get your link[/et_pb_code][/et_pb_column][/et_pb_row][/et_pb_section]